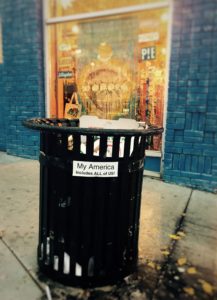 I heard, some twenty years back now, a Black Nashville preacher in a brilliant sermon on Psalm 23 declare, "The Psalmist says, 'Yea, though I walk through the valley of the shadow of death.' Brothers and sisters, the only way out of this valley is through!"
Do you wake up these days feeling powerless? Perhaps it takes a few moments for that now familiar sinking recognition to kick in. I know many who feel burdened by dread at the moment – unsure what the coming new year will bring. Amidst the usual everyday struggles over a loved one's illness or stresses at work or the struggles from a lack of work, some in our congregation are feeling fearful for their civil rights. Parents worry for their children. Others fear they will lose access to vital healthcare and social services. In this holy season of "active waiting" that is Advent, well, I'll be honest, some days it's been feeling more like a season of active anxiety. In my own home, this Advent has had a flavor of something like Lenten discipline: news and social media consumption is strictly rationed, discussions of the day's political headlines kept brief.
I'm finding that focusing my own attention on even one tiny positive action each day is grounding me in hope. If this is the season of active waiting, I'm trying to focus on the active rather than the waiting. I'm choosing to see giving as faithful resistance against dread – whether it's supporting the foster kids at Monroe Harding through the Giving Tree or volunteering for Waffle Shop or making art for worship or making a nourishing meal, no act of care for others or myself is too small. Right now, it all counts. It has to count.
Over the past few weeks if you've been at Sunday worship you'll have heard announcements about a new initiative at DPC – a clothes closet for our homeless guests. I asked Betsy Bahn to share with us some more information on this extension of our meals ministry…
Cary: Why do we have a clothes closet? Who is it for?
Betsy: So, it really evolved very organically. When we started our Saturday morning breakfast ministry for the homeless and urban poor (in addition to our Wednesday lunch ministry), it was with the hope that we'd not only nourish our guests in body and spirit, but also with the expectation that as new needs presented themselves, we'd be able to expand our services to match. A couple of months ago, we had a young woman who came to us and asked if we had any extra clothing. She lives on the streets; and during the night, her menstrual cycle started, and she needed clean underwear and pants as she had no access to feminine hygiene supplies. We were able to provide her with a pair of clean sweatpants (expensive sparkly sweatpants bedazzled with "Nashville!" from a gift shop on lower Broadway, but clean and serviceable nonetheless). We also purchased some feminine hygiene supplies, which we gave to this young woman. Almost immediately, the other women that were present that day approached us and we quickly gave out all of the supplies we had.
Two important lessons learned that day: 1. Women (especially younger women) on the streets face a number of challenges without access to hygiene supplies, and B. Ain't nothing reasonably priced on lower Broad.
Later that day, I bought several large plastic bins and went through our family's box of clothing waiting to go to Goodwill. So, what started as a couple of bins with a few things has now grown to an actual well-organized (ok…mostly…well..maybe, sort-of organized) closet with men's and women's clothing, toiletries, and feminine hygiene supplies.
Cary: What items can I donate to the clothes closet?
Betsy: Men's and women's tops, bottoms, and shoes in all sizes! This includes women's plus-sizes and men's 2X and up. Think functional and practical. For example, this probably isn't the place for your old prom dress or those high-heeled sandals that were last year's fashion statement. Shoes should be closed-toed. We also need travel size toiletries, small sewing kits, and feminine hygiene supplies. Gloves, hats and coats are also needed, especially now that cold weather is finally here. We don't have a children's section as of yet, but we'll take kids items as well. We have seen an increase in women and children among our Saturday morning guests. New underwear is also welcome (think whitey-tighties and plain women's cotton briefs). Women's sports bras are also useful.
If we have a special need or we're really low on a certain size, we'll make an announcement during worship and in the e-Votion.
Cary: Are there any items I shouldn't donate?
Betsy: No used underwear or boxer shorts. Used sports bras are ok, but they've gotta be clean and in good condition. No mouthwash (contains alcohol). Women's skirts and dresses aren't really practical for our folks and items like strappy tank tops, lingerie or sandals aren't very useful for our people. We can't take over-the-counter or prescription medications or any toiletries that are already open.
Cary: What condition should the clothes be in?
Betsy: Clean, clean and more clean! Seriously, a lot of these folks do not have access to laundry services, or have very limited access. Also, a long-time member of our congregation shared with me that a previous attempt at a clothing ministry was discontinued in part because the room got, well, a little too fragrant. So, clean and gently-used is what we're going for. And while we're really grateful for the generosity, if it's ready for your rag-box, that's where it belongs.
Cary: Anything else you'd like people to know?
Betsy: Glad you asked! We'd love to start putting out a small table with books for folks to take and read (paperbacks are best due to weight). Homeless doesn't mean illiterate and boredom can get folks into trouble (ok, maybe that mostly applies to me, but still…) Fiction and non-fiction are welcome. Also, reusable tote bags are always needed. If you have any extra throw blankets (like the fleecy kind you snuggle up on the couch in), we'll be happy to find a new owner for those too! Disposable rain ponchos are a great thing. And I'm sure there's going to be much more. I'll keep you posted with any exciting developments!
When I first moved to America, six years ago last month, my partner Joel, would remind me that despite my lack of a vote at the ballot box, "You get to vote every day." He meant that we vote by our actions and by the values and faith they represent. That edict is still written in chalk on our kitchen wall. It's no less true now than it was then. Perhaps it's more true now than ever. It certainly feels that way to me.
Those of us who know the work it takes to survive depression, anxiety, addiction or grief know that some days coping is all we've got. We get through one day at a time. Sometimes one hour or one moment at a time. And that's enough. So I'm adding the new DPC clothes closet to my list of Ways I Get To Vote Every Day and I encourage you to do the same – especially if you are feeling burdened by dread. Take some power back. Because a small good something is always going to be better than nothing. For others and for ourselves.
The only way out is through.
Peace Be With You,
Cary Gibson.