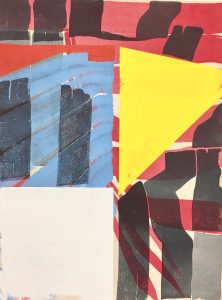 The Browsing Room Gallery at the Downtown Presbyterian Church presents Here/Now: Painting Nashville, a collection of recent works by contemporary painters who are considering the Nashville landscape through a personal lens, curated by DPC resident-artist Megan Lightell.
Exhibit Title: Here/Now: Painting Nashville
Exhibit Dates: December 1, 2018 – January 25, 2019
Opening Reception: Saturday, December 1 from 6 – 9pm in coordination with the FirstBank First Saturday Art Crawl
About the exhibit:
These painters examine various aspects of the human experience of living in a rapidly changing city, including the social implications of gentrification, the visual impact of robust construction, and the emotional experience of finding quiet edges where structures meet natural spaces. All of them incorporate observation of the landscape into their practices, and from there, a personal narrative takes shape. For some, like Jodi Hays and Amanda Joy Brown, pattern, association, and memory prompt the work as they move between representation and abstraction. Michelle Farro and Greg Dennie rely more on direct observation as they allow spatial ambiguity and the emotional charge of color to connect with the viewer. In Tony Sobota's work, the visual language of construction challenges us to value the process of becoming a new city.
Artists in the exhibit: Amanda Joy Brown, Greg Dennie, Michelle Farro, Jodi Hays, Tony Sobota