Time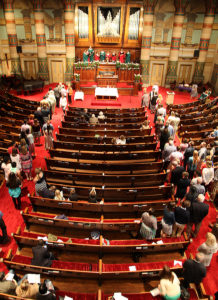 Sunday Worship is at 11:00 in the sanctuary. Please enter through the front doors at the top of the steps on Church St. An elevator is located on the left (east) side of the building.
Sunday school is at 9:45 and meets in different places throughout the church. Enter through the wooden doors on 5th Ave and ask anyone you see where to go.
Parking
Parking is free for worshipers on Sunday morning in the Premier Parking Lot located on 4th Avenue, just south of the intersection with Church street. Take a ticket upon entering the parking lot, and get a complimentary voucher from a DPC greeter in the narthex, which you can use upon exiting.
What to Expect
Every Sunday you will find people from all walks of life, from all over Nashville and beyond.
Our worship is traditional but relaxed, liturgical but with room for the Spirit to move. We sing hymns and songs from the most recent Presbyterian Church (USA) hymnal, Glory to God, which honors the timeless hymnody of the church and offers wonderful new selections from some of the best modern hymn and songwriters. The European hymn tradition, American gospel, songs from Asia and Latin America, the Taize and Iona communities and much more may be experienced in our worship. We provide plenty of opportunity for prayer and offer different ways of lifting up our petitions and celebrations. We do not overlook the essential need for silence as we wait in God's presence. Sermons are carefully crafted by our pastor, usually following the Revised Common Lectionary, to reflect the hope, assurance and challenge offered by the variety of Biblical texts and in the context of today's world.
We seek to leverage the latitude of expression granted us our by our PC(USA) Directory for Worship while honoring the theology and structure it provides.
In the truest sense of the word, our worship is contemporary; it addresses the spiritual needs of people of faith in the modern world, never forgetting that we worship a God who has been faithful and loving to generation after generation. Through our worship we seek to strengthen people to live out the gospel in their personal and family lives and in the public square.