Here at DPC we celebrate Advent and Christmas with a series of unique covers for our Service of Worship bulletins, created by our Artists-in-residence, the DPC kids and church members.

Our Service of Lessons & Carols this year begins the incarnational story with Creation. Having volunteered to create a cover for this service, I read the opening lines of Genesis 1:1-5 (combined with John 1:1-5 for Lesson 1) and was struck by the imagery of chaos and the deep. Or rather, I was struck by wondering what exactly are we supposed to be imagining when we hear this mythic origin narrative? How does what we imagine shape how we are hearing the story?
I sought wise counsel from Rev. Sarah Jordan, our former Vanderbilt Divinity intern and Rj Robles, a queer and transgender Latinx activist. Our conversation drew on their recent MDiv. studies and took a dive into the deeps of the text. Much of our discussion explored how traditional readings of the Genesis accounts of creation have understood the order that is created out of chaos in binary terms: day/night, land/sea, male/female, good/bad. The Western imagination's tendancy to adopt binaries can have its uses (hello computing!) but, like all hegemonic imaginings, that easily becomes a rigid and decidely hierarchical way of thinking. Strict binary thought stops us from witnessing the world in all its diverse complexity and the inbetween spaces of creation – the dusk and dawn, the shoreline, and the spectrum of human experience we file under the simple-sounding title, Gender. Rj commented that perhaps creation is better understood like a turning kaleidoscope. This imagining allows us to witness Creation as order that is intricately complex and beautiful.
I wouldn't have, and indeed couldn't have, created the resulting bulletin cover without the inspiration of my 11-year-old niece, Sequoia.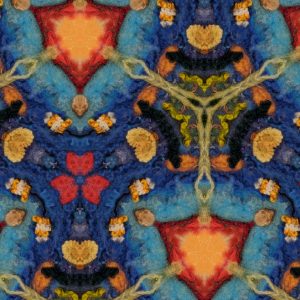 The cover image is a digital manipulation remix of an under water scene she created in felted fibers at a summer art camp in Ontario. I imagined I was taking the waters of the deep in Genesis and turning back the cosmic clock to witness its kaleidoscopic beginnings.
I wanted to share her beautiful work with you and give her full artistic credit and thanks.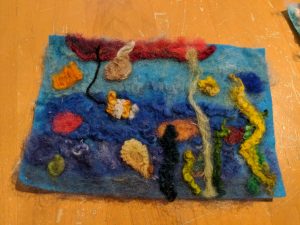 Thanks too to Rj and Sarah for such enriching conversation. And thanks to Dena Swoner in the church office for doing such a lovely job formatting and printing up these special seasonal bulletins. Each cover is different from the last. Together they too express the kaleidoscope nature of us as a community – in our creativity and our identities.
Happy Advent everyone!
– Cary Gibson, Artist-in-Residence