You may have noticed some changes in recent weeks on the neglected bare strip of ground off 5th Avenue at the south end of our building. Overhung by ginkgo trees, DPC member and Master Gardener, Pam Swoner has been spearheading an exciting rejuvenation project to create a new flower garden.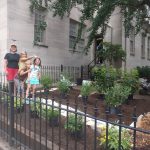 We asked her to explain what she and her volunteers are creating. It's clear this garden will achieve something more important than mere cosmetic changes.
DPC VOICES: So why are we doing this project? Are we just trying to make the church grounds look prettier?
PAM: Right now we are completing stage 1 of the project. "Bee corridors" are needed throughout Nashville as we lose all of our "green" spaces to concrete development. So this garden is specifically intended to help in that effort. It is designed to specifically attract bees and other pollinating insects, and it will educate humans about the benefits of native plants in these pollinator gardens.
DPC VOICES: What work has been done so far?
PAM: We have repurposed part of our history – 170 year old cedar beams now edge the new planting area. We've added sulfer to lower the ph of the soil, and added 3 cubic yards of soil & peat moss because the area was filled with hard dirt and rocks.
DPC VOICES: What kinds of plants will be in the new garden?
PAM: We're planting Tennessee natives: Baby Joe Pye Weed, Goldenrod, Asters, Woodland Phlox, Gaillardia aristata. Orange milkweed (Asclepius Tuberose) provides nectar specifically for migrating monarch butterflies.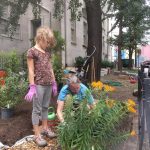 DPC VOICES: Why is it important to have these kinds of gardens and plants, especially in downtown Nashville?
PAM: Urban gardens provides habitat and food sources for insects and bird. They help clean the city air, provide visual mood therapy & are educational because they show how even small garden spaces can provide great benefits both to our environment and the quality of city life.
DPC VOICES: What are your hopes for the garden and how it will be part of our community life at DPC?
PAM: I hope it will start a conversation about the importance of having diverse plants in urban settings and the environmental benefits of pollinator gardens like this one. Without pollinators at least 1/3rd of our food supply will disappear!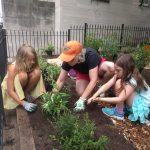 DPC VOICES: What work will be involved in caring for the garden during the year?
PAM: Because the plants are native to Tennessee, they need minimal attention beyond watering and seasonal pruning.
DPC VOICES: Can I contribute to or get involved in this project? And do I need to have green thumbs to help?!
PAM: This first stage will be completed by the end of June. The plants are perennials so once they are planted there isn't much to do except protect them, keep the area clean of garbage, watering when needed and enjoying them. So if you want to help you won't need any gardening expertise. Stage 2 of the project will be to remove the female gingko trees and replant the rest of the plot. I love the trees but they were a bad choice for the location due to the messy & stinky berries they drop!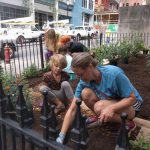 We are grateful to Pam & all who have helped so far as new life is brought to our outdoor space.
– Cary Gibson, Ruling Elder.