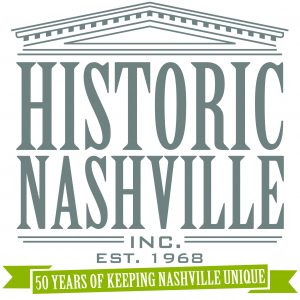 Historic Nashville, Inc, and Downtown Presbyterian Church to present Nashville album art exhibit at October Downtown Art Crawl, spotlighting dozens of classic and contemporary album covers featuring historic Nashville landmarks.
What: Nashville: Covered Album Art Exhibit
Where: Downtown Presbyterian Church, 154 5th Avenue N.
When: Saturday, October 6 from 6:00 – 9:00 p.m.
Historic Nashville, Inc. (HNI) invites the public to celebrate Nashville's landmarks through the music and art they inspire at Nashville: Covered, a special one-night-only exhibit of classic and contemporary album covers on Saturday, October 6th at the historic Downtown Presbyterian Church (DPC).
The albums on display will be for sale and feature cover art that was photographed here in Nashville. All proceeds benefit the continuing restoration of the DPC and HNI's preservation and advocacy programs.
Part of the First Saturday Art Crawl Downtown, HNI is partnering with the DPC and longtime Nashville record store The Great Escape to present this unique event.
"From Bob Dylan's classic 1969 album Nashville Skyline to Jason Isbell's upcoming album Live from the Ryman, Nashville has inspired artists for several generations", said HNI President Jenn Harrman. "The Nashville: Covered exhibit connects our community's historic places with Nashville's rich music history through a variety of genres, musicians and time."
The exhibit will take place in the sanctuary of the DPC with free tours of the church offered throughout the evening to highlight the church's unique Egyptian Revival architecture.
The DPC is one of Nashville's most unique historic sites and was built in 1846 by architect William Strickland, known for designing the Tennessee State Capitol. The building is listed on the National Register of Historic Places, designated a National Historic Landmark, and featured on two of the albums included in the exhibit.
About Historic Nashville, Inc.
Established in 1968 and renamed in 1975, Historic Nashville, Inc. (HNI) is a nonprofit 501(c)3 membership organization with the mission to promote and preserve the historic places that make Nashville unique. Over the years, HNI has successfully advocated for the preservation of such historic places the Ryman Auditorium, Union Station, Hermitage Hotel, 2nd Avenue & Lower Broadway and Shelby Street Bridge, as well as neighborhood historic districts throughout the city.
In 1982, HNI established the state's first Preservation Easement program and currently owns easements on 18 historic landmarks with a market value of over $30 million. HNI hosts an annual membership meeting, publishes an Annual Report, maintains a website, hosts educational programs such as Behind-the-Scenes tours, and promotes the annual Nashville Nine list of the city's most endangered historic places. For more information, visit www.historicnashvilleinc.org or connect with us on Facebook or follow us on Twitter @historic_nash.