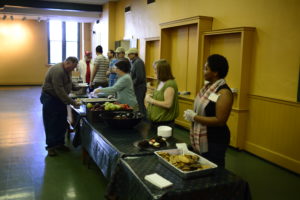 One of the best things about DPC is the abundance of opportunities to get involved and make a difference. Take your Christianity from abstract concept to practical reality. Not only will you change the lives of those around you… but also yourself! If you have any questions or would like to get involved, please feel free to contact the church directly or email the appropriate contact below. Here are a few ideas on how to get involved:
Saturday Breakfast
Every Saturday morning, in partnership with Lambscroft Ministries, we serve a hot, nutritious breakfast to Nashville's homeless and urban poor and open our clothing closet.
Volunteers should arrive by 8:00 a.m.
If you are interested in volunteering for our Saturday breakfast, or if you would like to be a part of the team helping to coordinate our efforts, please add your name to the sign up sheet in the narthex or via email to [email protected]. You can also sign up for specific dates on SignUpGenius.com.
Parking will be available in the Premier lot that we use on Sunday mornings and we'll give you a voucher for complimentary parking.
First Saturday Art Crawl
The Downtown Art Crawl happens on the first Saturday of each month from 6:00 p.m. to 9:00 p.m. Art galleries along and around 5th Avenue are open to the public and many launch their new exhibits or have artist meet-and-greets.
DPC is a popular stop on the crawl with a couple hundred guests coming through the sanctuary and The Browsing Room gallery. Volunteers are needed to be hosts.
The work is easy — offer a friendly welcome to anyone who comes in and, if you're comfortable, do a little show-and-tell about our remarkable building. No experience is necessary and you don't have to know the history of the building to be an effective host. Michael Arwood, our Art Crawl leader, will be there to show you the ropes. Hosts need to be at the church by 6:00 p.m.
Email Michael ([email protected]) if you'd like to get on the rota.
Sunday mornings
There are sign up sheets in the narthex for regular volunteer opportunities:
Greeters set up the refreshment table in the narthex, welcome visitors before worship & collect the tithes and offerings.
Liturgists lead the congregation in the liturgy, read a passage of scripture and prayers during the service.
For more volunteer opportunities at ongoing or special events, see our Sunday morning bulletin and listen for announcements. Joining our Hospitality and Outreach monthly committee meetings are a great way to get more deeply involved in service to the congregation and the community.